With rising energy costs and environmental threats looming over your head, it may seem like there's no relief in sight. What you need is a solution that will help you save money, keep your home safe and reduce your carbon footprint. Introducing Generac's PWRcell – a battery storage system that harnesses power from the sun to help reduce your electric bill and provide backup power during utility power outages.
PWRcell's revolutionary technology captures and stores electricity – either from solar panels, or the electrical grid. It allows you to use stored energy during peak demand times when electricity costs are high, which ultimately helps reduce your electric bill and save some money. In the case of a power outage, PWRcell is ready to supply backup power to your home.
Not yet convinced? PWRcell is backed by a 10-year limited warranty!

Benefits:
Less dependance on the grid, cleaner energy, With a battery, keep the power on in a grid outage.
With a battery earn solar created energy during the day and utilize it at night.
Most ROI's average 10-12 years and earn $50-100K of savings in a 25 year period.
More battery per foot print than the other brands.
NABCEP certified

installations
Bloomington Solar Contractor – Unrivaled Electric (812) 361-3604
What is NABCEP?
The North American Board of Certified Energy Practitioners® (NABCEP®) is the most respected, well-established and widely recognized certification organization for professionals in the field of renewable energy.
Unrivaled Electric is NABCEP certified.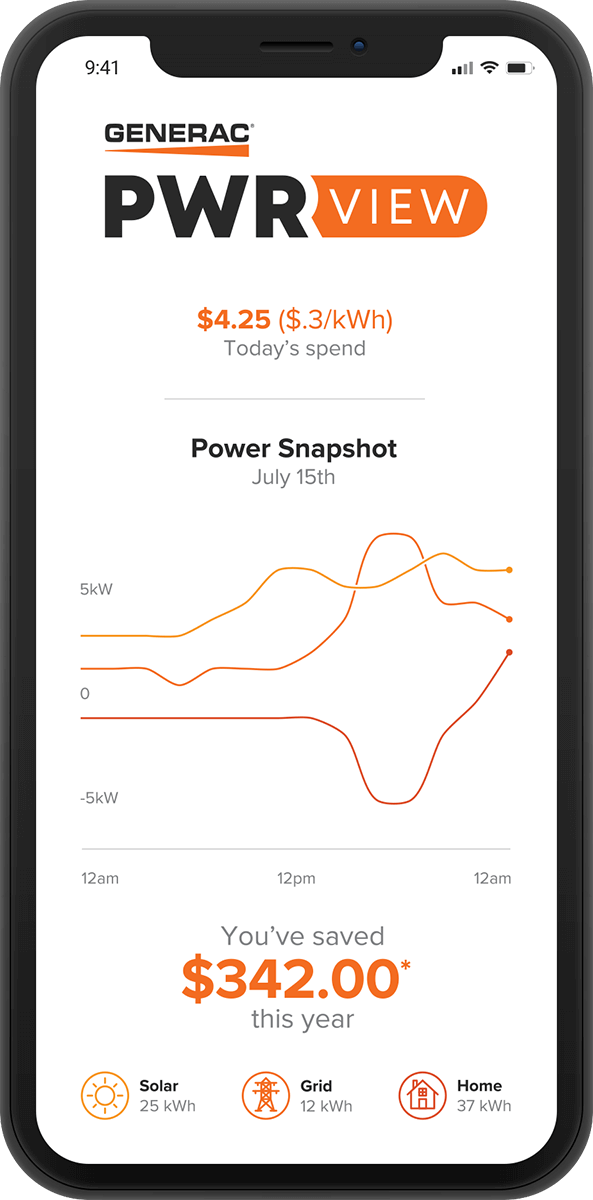 Sold included with all Generac CE systems and the 24kw Generator
With PWRview, you can keep tabs on your home's energy consumption and solar generation. Energy insights are accessible right from your pocket so you never miss a thing. If you need support or assistance, Generac is here to help.

Get valuable insights at your fingertips
Energy Usage at-a-Glance
Get real-time understanding of your energy use, giving you an improved experience
Access Daily Energy Intelligence & Insights
View dashboards for daily consumption, solar generation and battery usage along with bill estimates and savings.
Better Understand Your Home's Energy Profile
Multiple layers of data provide deep insights to inform decisions and to detect and explore trends.
Eliminate Surprises
Keep energy spending in check with detailed bill tracking, forecast and history.
Visually see energy flows
See historical energy data
PWR

Cell
Truly Scalable Storage System with Unmatched Raw Power
A PWRcell system can provide up to 9kW of continuous backup power to a home's essential power needs, or to the whole home. A single PWRcell battery can provide enough motor starting power to backup large loads like air conditioners and well pumps.
The PWRcell battery is not only the most powerful battery on the market, it is also the most flexible and scalable. It can be set up for completely outdoor installations in nearly any climate with the optional Outdoor Rated (OR) PWRcell battery cabinet and new PWRcell battery module. The PWRcell battery can be configured to meet any budget or lifestyle: with as few as three battery modules for just 8.6kWh of capacity and 4.5kW output; or, four, five and six battery module configurations yield more power and capacity up to 18kWh capacity and 9kW output. When even more power is needed, multiple PWRcell batteries can be connected to a single PWRcell inverter for up to 36kWh of storage capacity and 11kW continuous backup power.
Generac PWRcell is an intelligent energy storage system. Equipped with PWRview energy monitoring technology, PWRcell protects you during times of power outage and allows you to control your energy usage to save on utility costs.
Get through the night on stored solar
Protect what's important, home and family, during power outages
Lower energy bills and avoid peak rates
Gain greater independence from the grid
What our
Bloomington Solar services

include
Installation of solar panel systems and battery pack systems (both now integrate great with a Generac system)
Installation of PWRcell by Generac
Installation of power monitoring devices such as PWRview
Installation of electric vehicle (EV) Chargers such as for Tesla
To learn more, click the links below:
Contact us today and set up a Free Service Estimate
Call (812) 361-3604